Ogrons
are a species of tall, strong, but not particularly intelligent primates from the
Doctor Who Expansion
.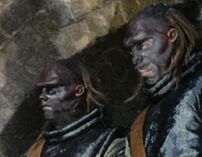 Health: 85
Strength: 20
Agility: 1
Influence: 3
Stealth: 1
Marksmanship: 4
Crafting: 2
Tech Skill: 2
Psionics: 0 (cannot upgrade)
Equipment
Edit
The Ogrons have not built any sophisticated technology of their own. They generally user the weaponry of their employers, whether they be human, Dalek, or Shadow Proclamation.
Ad blocker interference detected!
Wikia is a free-to-use site that makes money from advertising. We have a modified experience for viewers using ad blockers

Wikia is not accessible if you've made further modifications. Remove the custom ad blocker rule(s) and the page will load as expected.