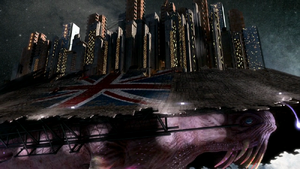 Star Whales are massive, space-borne organisms in the
Doctor Who Expansion
. Although once numerous in the Solar System, by the
29th Century
only one was left in existence, serving as the foundation of
Starship UK
.
Health: 15,000
Strength: 2,500 (ramming), 1,500 (biting)
Agility: 0
Stealth: 0
When ramming a starship, a Star Whale will suffer an amount of damage equal to 1/6 shield strength and 1/3 hull strength.
Ad blocker interference detected!
Wikia is a free-to-use site that makes money from advertising. We have a modified experience for viewers using ad blockers

Wikia is not accessible if you've made further modifications. Remove the custom ad blocker rule(s) and the page will load as expected.