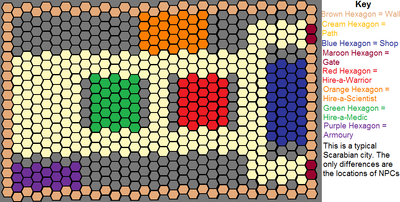 Scarabian cities look roughly the same, the only differences between cities being NPCs. They have a wall round all four sides of the city, and two small gates on one side.
Buildings
Edit
Scarabian cities have five buildings.
Armour and weapons can be bought here.
Here you can hire warriors. They cost 575c, and another 90c for every battle they are used in.
Here you can hire medics. They cost 550c, and another 80c for every battle they are used in.
Here you can hire scientists. They cost 500c, and another 75c for every time they supply a new weapon or valuable information.
Here you can store bought weapons and armour.
Prices are for Scarabian cities only.
If you cannot pay the hire price, your hired ally will leave your party.
Ad blocker interference detected!
Wikia is a free-to-use site that makes money from advertising. We have a modified experience for viewers using ad blockers

Wikia is not accessible if you've made further modifications. Remove the custom ad blocker rule(s) and the page will load as expected.